Street Food in Malaysia: 5 Spots You Should Not Be Missing Out
When visiting Malaysia, do not just focus on its wonderful holiday destinations but instead, explore its exciting and eclectic street food that is bursting with myriad flavors! The excitement does not stop there actually, since the Chinese, Thai and Indian influences – some of the best Malaysian food, will blow your mind with a range of dishes that use interesting and exotic ingredients to create a palate-satiating fare! In case you are the type of person who always come back to the same old spot because you do not know any other delicious street food places, do not fret yet because this entry is here to the rescue! Thank me later as you do not have to scroll through social media anymore just to find one or two of these heavenly good snacks!
So, are you ready to be overwhelmed by the endless choices available of scrumptious street food in Malaysia?
Satay Capitol, best street food in town!
If you're looking for a place to fix your satay cravings, then we highly recommend giving Satay Capitol 1951 in Kampung Baru that serve up satisfying satay with a good marination. This famous street food stall has been operating for 68 years, so basically, Satay Capitol is no stranger to KL people. Most reviews from the stall's regular would agree on how good their satay are but the thing that makes this stall stand out from other is its addictive 'sambal kacang' sauce, tender meat and juicy fat of skewers!
Apam Balik Nusantara
If you have never tried the Durian Cheese Apam Balik at Apam Balik Nusantara, then you have never really had good apam balik. Offering more than 30 interesting combinations of fluffy apam balik, needless to say that the street food here got all your happy textures in one hand dessert only! Unlike the common crispy crust apam balik, Apam Balik Nusantara is almost cake-like, as they are brushed extra layers of butter and flour are put on the inside to make it thick and moist. This famous street food has been operating since 2006 at the heart of Malaysia's capital city which is at No. 14, Jalan Hamzah, Kampung Baru. The prices range from RM4.50- RM11.50 which is not that expensive so if you are craving or searching for some sweetness, just head on to Apam Balik Nusantara, okay?
TBR Coconut Station
Looking for some refreshing cooler that you can grab casually by the roadside without spending big bucks? TBR Coconut Station might be the solution. With the weather so hot in Malaysia and you need something to flush down that heavy good food you had before, coconut shake sounds about right. Made with generous and fresh coconut flesh and water, see all these ingredients blended into your perfect shake in just seconds, and they are also quite affordable!
Pau PakNgah, a great street food snack!
Pau is a common local street food that is popular among Malaysians and one of the famous pau stall would be none other than Pau Pak Ngah. Priced from only RM2 to RM3 per piece, some of you may have heard of this stall in Ampang already, since it is known for selling some pretty unconventional paus which is the only stall in Malaysia to have carbonara fillings in its pau! This street food pau has been around since 1999, and just recently decided to break the norm and offer a unique take on the traditional, but much loved bread-like. With about 10 flavors to choose from, you will never get enough of these paus actually!
Durian Cendol SS2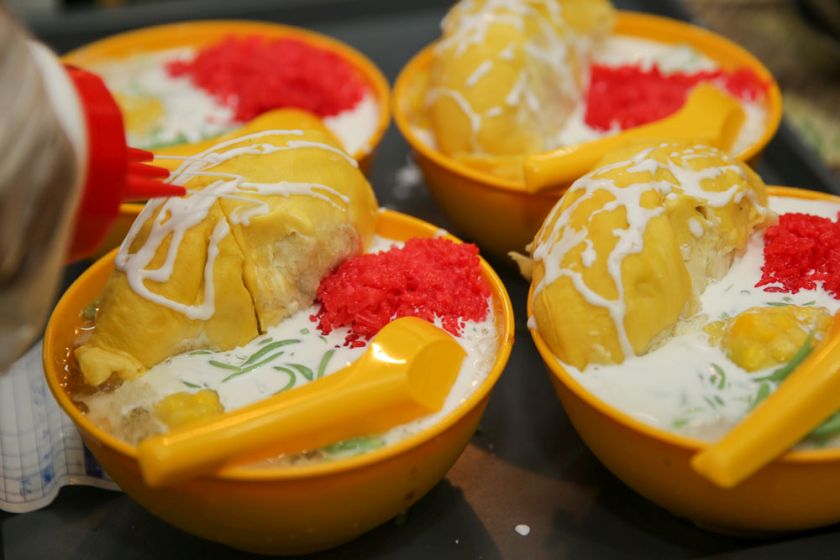 The heat in Malaysia is just so unbearable but You know your trip wouldn't be perfect without durians. But, since nothing speaks more to the Malaysian street food experience than a piece of creamy, delicious durian, one of the best place to experience the thorny delicacy is at the well – known SS2 Durian House Stall. What do you feel about durian cendol? Yes, the combination might sound off, but hear this first – this is one of the best street food many had guaranteed!
You can either opt for regular durian or musang king because no matter the type, the sweetness of the durian that replaces gula melaka, will sure to add creaminess to the icy cold cendol!
Conclusion
There you have it! You have now knowledge top 5 street food spots in Malaysia. These places are such great choices to visit especially on your holidays or vacations, but it is important to know what you can do at the location, along with the rules, and what to expect. Because only then you can make a checklist on places to visit and things to do to fully enjoy your visit in Kuala Lumpur. Once all that is said and done, don't forget to get travel insurance, AXA Smart Traveller is offering travel insurance from the price of only RM 13/trip, visit https://products.policystreet.com/axa/smarttraveller/overview or more information NOW!