Top 5 Japanese Street Food That Will Sure to Awe You:
Japanese street food, the best! I think everyone would agree when I said that in order for a travel destination to be awesome, it has to have lots of amazing food. Sure, all of those scene-stealing action of professional chefs, cooking those luxurious meals on famous diner sounds cool but sometimes, most delicious and innovative foods are found in a more humble surrounding which is street vendors.
In regard of the topic, did you know that Tokyo has more Michelin star restaurants than anywhere else in the world? But not only that, because this country is full of appetizing dishes made by the street that are cheap yet high-quality! One useful tip before you diverse into the amazingness of foods there, is to visit during any festival season to enjoy street food to the fullest!
Okonomiyaki – a must try Japanese street food!
Usually drizzled with dried seaweed, pickled red ginger, mayonnaise and savory okonomiyaki sauce on top, another nickname for okonomiyaki is 'Japanese pancake' due to the preparation for those two are quite alike. This hearty meal consists of flour, eggs, cabbage, as well as a variety of possible veggies and most intriguing ingredient – meats.
There are two style in preparing okonomiyaki which can be either 'Kansai Style' or 'Hiroshima Style'. For the first variety, all of ingredients are mixed together before pouring them on the grill while for Hiroshima type, the batter and other ingredients are cooked separately, and then served on top of yakisoba noodles. Final step for both styles would be to the pile all of your favorite foods together, add batter and make a pancake out of it or voila – okonomiyaki is done!
Dango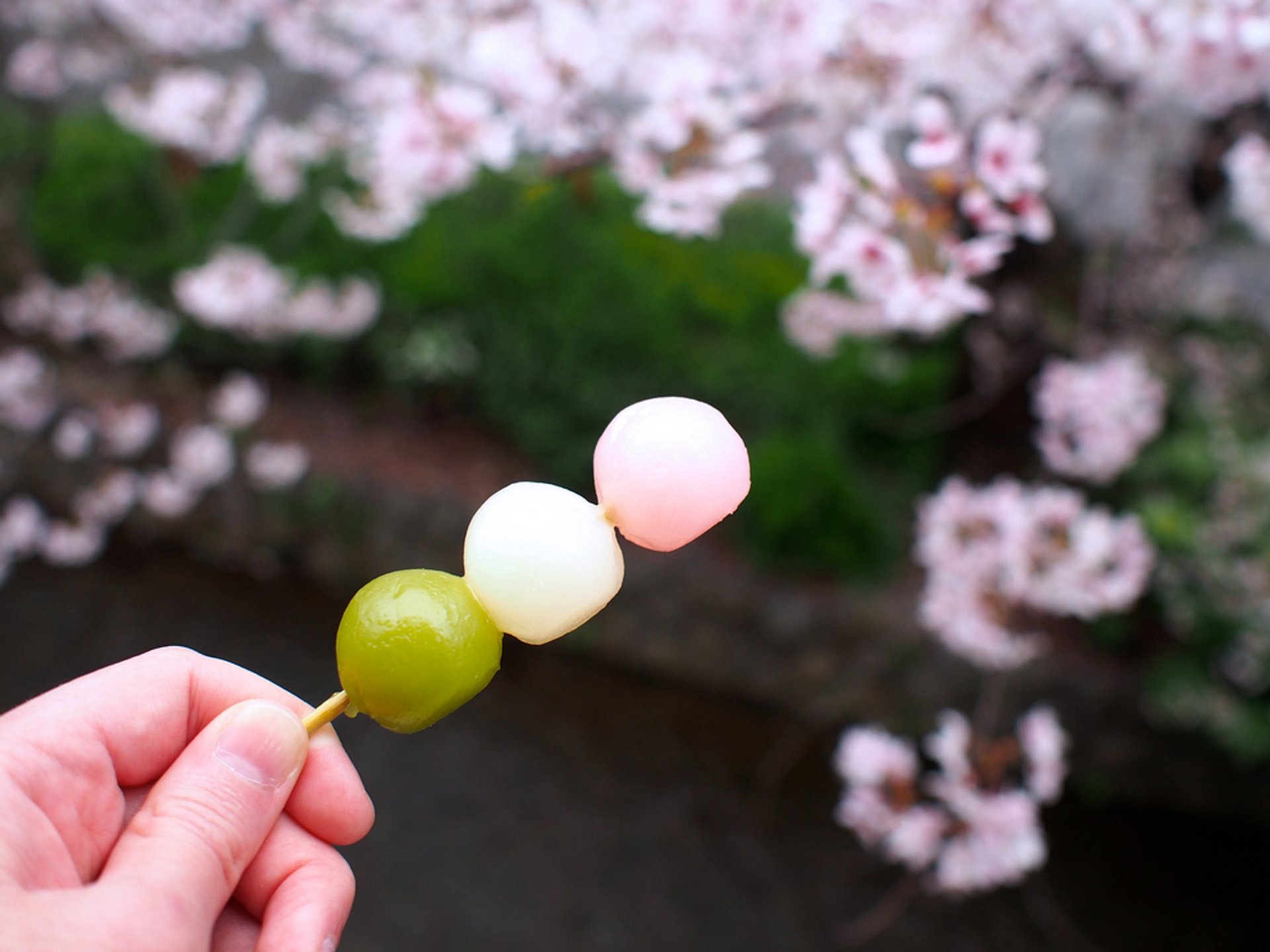 Similar to mochi, dango are actually round dumplings formed from glutinous rice flour and water and cooked until they are firm. This sweet treat is especially popular during cherry blossom season, since you can spot squishy hanami (flower) dango in green, white and pink colors to match the flowers. Vendors will usually sell three or four pieces of dango that has been put on skewer to ease its journey into our mouths. Seasoned with many flavor, these rice dumplings are also covered in a soy-based sauce to sweeten the plain taste of it. But do not worry if you are not really good with sweetness since you can always ask the seller to reduce amount of layered sugar on your dango.
The ultimate Japanese street food -Ikayaki
You might only able to order grilled squid at the restaurant at your country, but when in Japan, do as the Japanese. This is because, one of Tokyo's staple street food is ikayaki or as you called it; grilled squid. In case you are wondering if it is worth or not to buy ikayaki, do not ever ask that question ever again because the answer is totally a huge yes! I mean, it is huge, thoroughly seasoned and most importantly – grilled to the perfection!
You can easily spot vendors selling either whole or partially whole squid during fairs and local festivals, but you can also find ikayaki year round at places like the Outer Market of Tsukiji Fish Market in Tokyo's Chūō Ward. It may be a simple snack to cure your hunger pang while travelling but when cooked correctly, the slimy meat transforms into a plump and tender culinary work of art!
Taiyaki
Red bean paste, custard, Nutella and chocolate are just some of the all-time-favorite fillings among all of these fish-shaped cakes or taiyaki addicts which are really similar to waffles. If you are up for a challenge, try ordering taiyaki with sweet potatoes, cheese, sausages or even vegetables interiors. Since taiyaki are served warm, as soon as it enters your mouth, you will be sure to be mesmerized by the gooey filling inside which is sooo delicious! No harm is done to the sea creatures while cooking the taiyaki though, despite the fish imprint so decide yourself in ease whether to eat this delicious treat from head or tail first!
Senbei
Come in a plethora of sizes, shapes and flavors, senbei is actually a type of rice crackers that are usually baked or grilled, and are enhanced with soy sauce and mirin (a rice wine condiment). A perfect pair for a cup of green tea, senbei history started during the ancient city of Nara where the sacred deer that roam the area for delicious treats and even bow for a cracker when offered one. Most senbei are savory, seasoned with soy sauce or salt, but sweet varieties can also be found and feel free to buy packaged senbei which are sold in many stores across Japan, in case you miss its taste when you came back from travelling later.
Conclusion
There you have it! You have now knowledge top 5 best street food in Japan. Japan is such a great place to visit especially on your holidays or vacations, but it is important to know what you can do at the location, along with the rules, and what to expect. Because only then you can make a checklist on places to visit and things to do to fully enjoy your visit in Japan. Once all that is said and done, don't forget to get travel insurance, AXA Smart Traveller is offering travel insurance from the price of only RM 13/trip, visit https://products.policystreet.com/axa/smarttraveller/overview for more information NOW!