Busan and Top Things to do there For your Next Travel: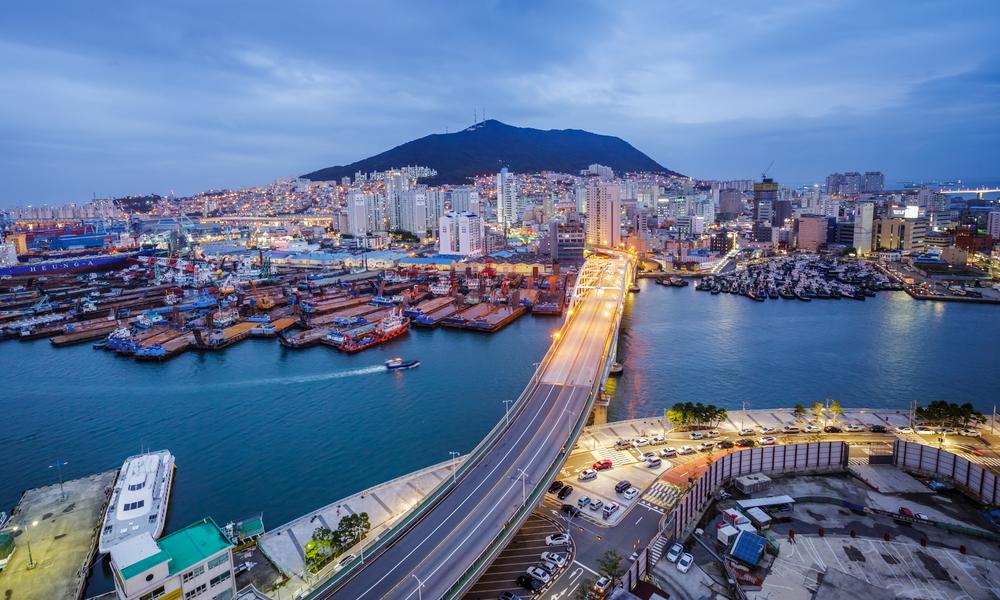 Busan is a seaside town and is the second biggest city in South Korea, following the famous city Seoul. In case before this you believe that Seoul is the only city of interest in South Korea, you obviously have not been to Busan yet. From slums-turned-hip-art-districts, historic temples and hot springs, Busan has recently been gaining traction and now sees a steady flow of tourists. This brazen port city that boasts a plethora of best beaches, seaports, hot springs and places for shopping spree of Busan totally sweats with enough swagger to drop in as a must-see destination for any first-time visitor to Korea. Located in the Southern regions, you could say that the city is a more chilled out, relaxed version of the populated Seoul, and also holds treasures aplenty just waiting to be explored!
Got a little extra time to add some Busan in your life? Here's a quick guide for what to do in Busan…
Gamcheon Culture Village at Busan
After being revitalised in 2009, this former shanty town on the fringes of the city center is now known as the 'Machu Picchu of Busan'. If you have seen postcards of Busan, there is no escaping the famous hillside charms of Gamcheon Culture Village because it is so darn pretty! Other than enjoying the stunning view of their houses that are all painted in different vividly toned colours, tourists will also uncover a whole slew of bright wall murals, art galleries, small craft stores, and cafés. I mean it when I said you do not want to rush visiting Gamcheon as your Instagram would pat you on the back for the gift of all the gorgeous pictures that you took here!
Jagalchi Fish Market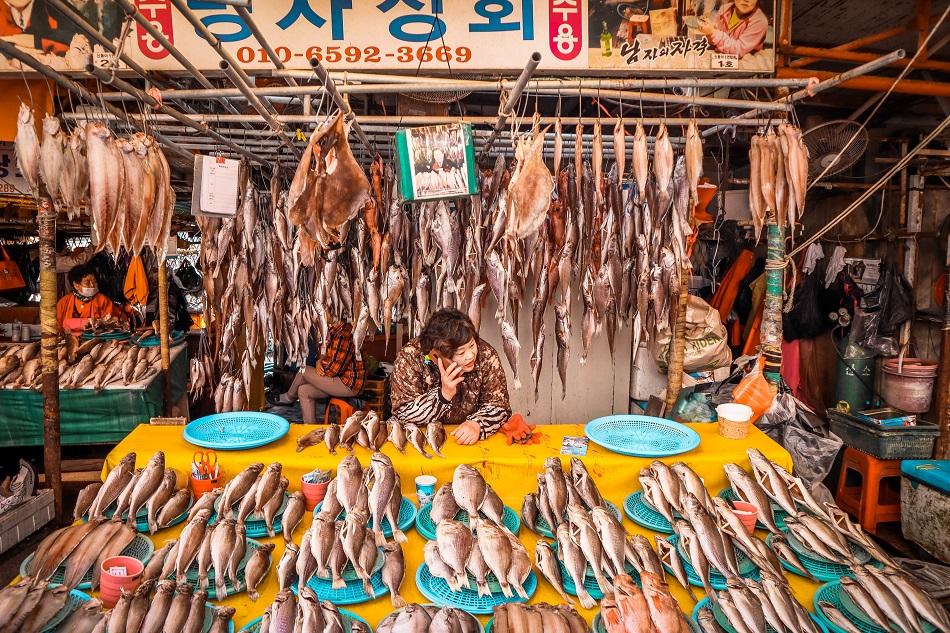 One of the remarkable landmark that appears on every bucket list, ignoring whether the thought of staring face-to-face with odd sea creatures and perhaps eating one appeals to you or not, is none other than the experience of visiting Jagalchi Market! it's chock-loaded with the freshest seafood in the country with a long history and cultural buzz so by not missing out on this place might be the best idea if you ever going to travel there. There is a massive collection of food stalls selling authentic street food and traditional drinks along the main street, including both cooked and uncooked squid, octopus, crab, starfish, oyster, sea urchin and mussels; a perfect spot for the freshest and unforgettable in Korea!
Haeundae Beach
The panoramic Haeundae Beach which is only 40 minutes on the train from Busan station, or an hour from the airport, is undeniably a feast for the eyes. It is considered one of South Korea's most beautiful beaches and its stuff of legend would be the sunsets there. There are numerous fun activities that you can do here, be it with your friends or family such as seesaw jumping, Korean wrestling, arrow throwing or even tug-of-war. On some particular sunny days, Haeundae Beach also becomes abuzz with artists and performers trying their best to cheer up the beachgoers so do not miss out on this one, who knows maybe you can spot your favorite K-Pop singer here, right?
Shinsegae Centum City, Busan
A day might not even be enough to cover this entire shopping centre since Shinsegae Centum City is in the Guinness Book of World Records for being the largest department store in the world, having surpassing New York City's Macy's in 2009! Most likely a gigantic outlet mall, you will find outlet stores with tons of branded items selling at steep discounts! You can also expect everything here; a skating rink, indoor golf driving range and if you ever feel tired after lots of shopping, Spa Land which are said to be cheap and good in Shinsegae Centum City is one of the most well-known place for spa services to retrieve your energy before you do it again.
Busan Beomosa Temple
Drawing upon a 1,300-year history, this Buddhist temple grew in importance over the centuries to become one of the most important places of worship in Korea, making it to be an absolute must-see while visiting the city. Built on the edge of Mount Geumjeongsan which is one of Busan's most famous mountains, visitors will be able to find the spectacular Iljumun, a three-storey pagoda with four pillars within the temple grounds. The peak period for the temple is in May when the wisteria woods surrounding the temple grounds are in full bloom so to see the temple at its best, visit in late spring when the delicate purples of wisteria flood the area or in fall when the autumn colours overtake the mountain's trees.
Conclusion
There you have it! You have now knowledge top 5 things to do in Busan. This city is such a great place to visit especially on your holidays or vacations, but it is important to know what you can do at the location, along with the rules, and what to expect. Because only then you can make a checklist on places to visit and things to do to fully enjoy your visit in Kuala Lumpur. Once all that is said and done, don't forget to get travel insurance, AXA Smart Traveller is offering travel insurance from the price of only RM 13/trip, visit https://products.policystreet.com/axa/smarttraveller/overview for more information NOW!