Delicious Turkish delights you must try when visiting Turkey Later:
Turkish delight and Istanbul, the most famous city in Turkey is totally inseparable since it has been known to be the perfect place to enjoy the rich diversity of Turkish cuisine. It has been a central component of the global food and spice trades for thousands of years, which makes it to become one of the dozen reasons for the food in Istanbul to belong at the top of any list. So, in case you are heading to Istanbul and are ready to exercise your taste buds, expect incredibly varied, historically interesting, and very delicious food in Istanbul that were influenced from all over the world!
Manti – A Famous Turkish Delight
Often called Turkish ravioli, manti is actually small handmade dumplings filled with minced meat that are boiled and then topped with yogurt sauce made from oil, paprika, mint, and garlic. We can also enjoy manti with salmon, spinach, or even chicken. Now, that is delicious! Other method of cooking manti other than boiled in water would be to be baked with butter, or boiled in tomato sauce, which is very unique, right? To revel manti as the locals do, try adding some spices since that is very common for the people here.
Lahmacun
Pronounced as luh-muh-jun, this hugely popular treat is comprised of a thin dough topped with a mix of wonderfully spiced minced lamb and finely diced peppers, blasted for a minute in a scorching pizza-type oven, dressed with fresh parsley, drizzled with lemon, rolled up and finally devoured freshly. Often referred by tourists as 'Turkish pizza', it is customary to enjoy the utterly delicious lahmacun with a glass of cold ayran which is a cold savory yogurt-based beverage that is mixed with salt – works wonderfully with the spice!
Dürüm
Salty, meaty, spicy and citrusy is the exact words to describe dürüm. It is actually one of the most democratic Turkish culinary inventions since you are just as likely to encounter it on a street corner as you are at the fanciest of restaurants. This oustandingly well flavoured and spiced lamb mince is manipulated around skewers and cooked over coals. When the meat is cooked, they are placed on bread along with red onions, tomatoes, parsley then served with pickled chillies. Whether it's the chicken, beef, cheese or veggie variety you prefer, this meal in wrap form is sure to set you free from your hunger pangs.
Want a taste of Turkish delight? Try Künefe!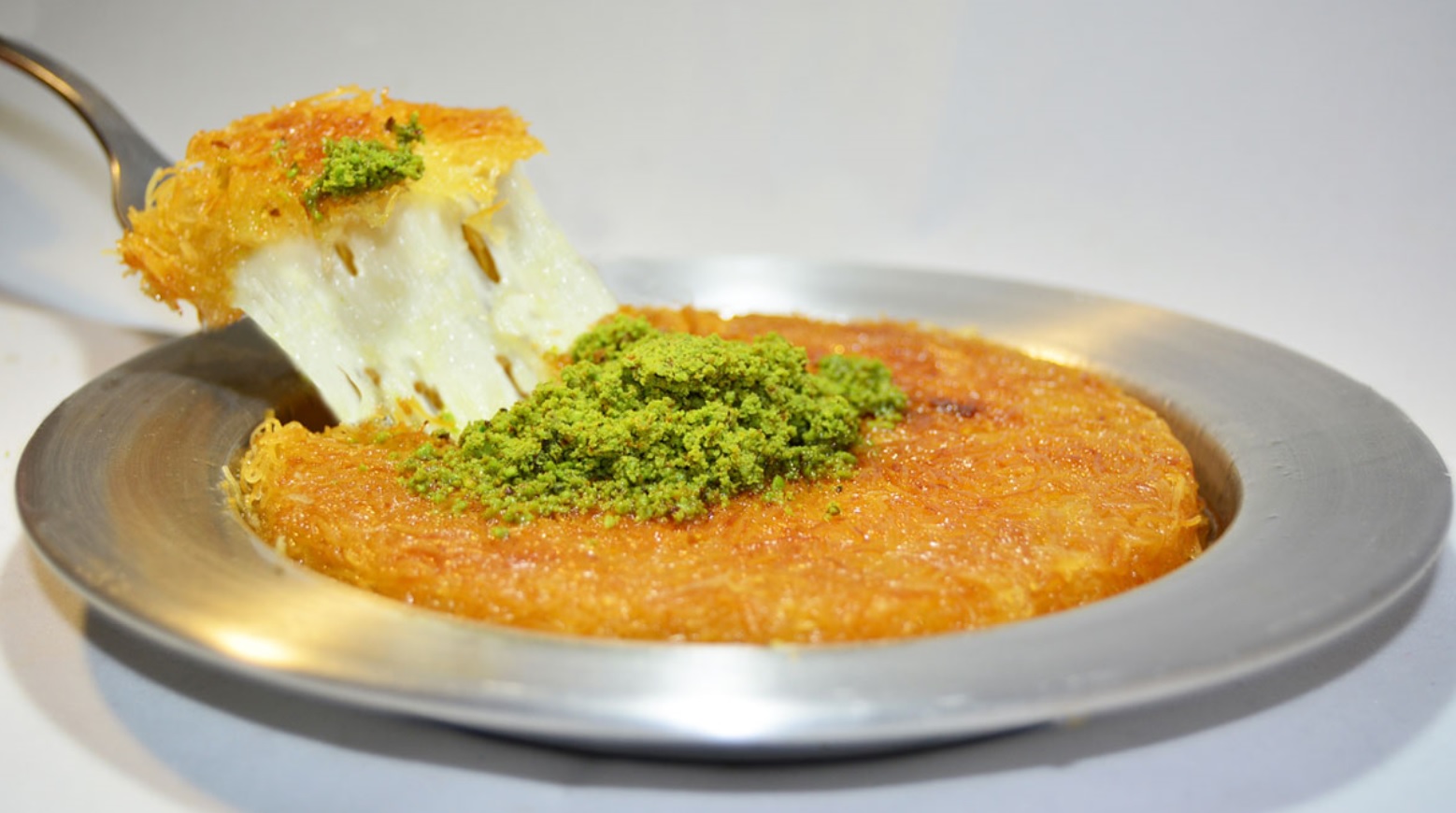 Künefe is a traditional Turkish dessert that has an amber color and is dressed with the grounded pistachio on top. The hot, sticky and buttery sweet course is made from a simple mix of water and flour which then freshly baked and soaked in syrup. The unsalted cheese in between the two layers of künefe is the essence as the cheese will later melts inside and when you take a bite you sense different textures, such as the soft cheese and the crusty dough.
Köfte
In Turkey, Köfte meatball is usually made from lamb, beef, or a combination of both types of meat, and is served with grilled peppers, spicy sauce, and usually bread or rice. It is common for us Malaysians like those you can get at IKEA but the thing that makes meatball in here to become more special because of its delicious crispy shell made from bulgur filled with seasoned minced meat, onions, parsley, and pine nuts. I mean, it is utterly delicious and incredibly popular that you will find a plate of them on nearly every menu at the restaurants there.
Conclusion
There you have it! You have now knowledge top 5 Turkish Delights in Istanbul. Istanbul is such a great place to visit especially on your holidays or vacations, but it is important to know what you can do at the location, along with the rules, and what to expect. Because only then you can make a checklist on places to visit and things to do to fully enjoy your visit in Istanbul. Once all that is said and done, don't forget to get travel insurance, AXA Smart Traveller is offering travel insurance from the price of only RM13/trip, https://products.policystreet.com/axa/smarttraveller/overview for more information NOW!